Back to Offensive Buildings
Ancient Relic | Forging Block | Guild Hall | Heroes Hall | Arena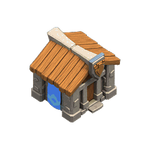 The Guild Hall is where a player can form a guild with other players and try to compete with other guilds in a weekly Guild Clash. Each week, players in the top guilds are awarded with Souls and Jewels.
When in a Guild, the hall also provide access to the Battle Royale game mode, where the guild members will work together to conquer a dungeon system similar to that in Solo Campaign. Completing dungeons in Battle Royale awards each player with random reward chests including Mutagen, Hero Shards, Gold, Exp Eggs, Jewels and Rings. Guilds also have their own chat room that is separated from the Global channel.
The Guild Hall also provides access to the Guild Boss, Guild Quests and the Guild Chariot and Guild Bot, which can be upgraded with Gold or Jewels.
Building Stats
Edit
| Level | Town Hall Level Required | Upgrade Time | Gold Cost | HP | Build Limit | EXP Reward |
| --- | --- | --- | --- | --- | --- | --- |
| 1 | 2 | 30s | 1,000 | 5,000 | 1 | 10 |
Joining a guild through the guild hall is one of the one-time tasks that rewards the player with 300 Jewels